Do you want to know how to notify the losers of your giveaway?
Knowing how to say you didn't win isn't always the easiest task – no-one wants to be told they're a loser. But did you know you can easily turn non-winning giveaway contestants into loyal fans and potential customers?
In this article, we'll show you how to email non-winning contest entrants and transform them into happy brand advocates.
Before we start, why should you send an email to the losers of your giveaway?
Why You Should Email Non-Winning Contestants
While giveaway winners usually get all the glory and attention, they're not always your biggest asset as a business owner. Truth is, it's the losers who can have the most impact on your brand.
It's the non-winners of your contest who are infinitely more important than the winners.
Look at it like this. After you notify the winner by email, how often do they come back to engage with your brand? Chances are, after they claim their prize, they might never return.
In contrast, it's the non-winners who could one day be potential customers.
They're the people following your social media profiles. They're the ones sharing your content and telling their friends about your company. So it's these people you need to keep happy because they have the power to influence your brand's success.
With a little planning, you can turn the act of losing your giveaway into an engaging brand experience, helping you secure life-long relationships with your target audience.
With that in mind, here are a few easy tips to get the most out of your giveaways and harness the full power of your losers.
How to Re-engage Non Winners of Your Contest
1. Invite Non-Winners to Another Giveaway
Red Bull gives you wings. Dr. Pepper, what's the worst that can happen?
Do you recognize those slogans? There's a reason why catchphrases like this are rooted firmly in our brains: repetitive brand exposure.
While they might not make you run straight to the store for a fizzy beverage, constant exposure probably has you perceiving Red Bull as one of the top manufacturers of energy drinks.
It works in the same way for giveaways.
Running a regular giveaway is an excellent way to accomplish repetitive brand exposure for people that didn't win. If they've entered your giveaway once, they'll likely enter again.
The more they enter, the more they'll see other people engaging with your product or service. Even if they don't win, a time may come when they'll need to buy your product. This is where the repeated brand exposure of your giveaways pays off, keeping your company top of mind more than your competitors.
So instead of sending a generic winner announcement email, invite non-winners to enter your next campaign.
Here's an example of a great email to non-winning contestants:
Email to Non-winning Contestants
Hi [First Name],
Thank you so much for entering our Black Friday giveaway and making it a huge success!
Unfortunately, you were not selected as the winner this time. But as a thank you for helping us, we'd like to invite you for another chance to win in our New Year giveaway next week.
Chat soon,
Stacey 
2. Offer a Consolation Prize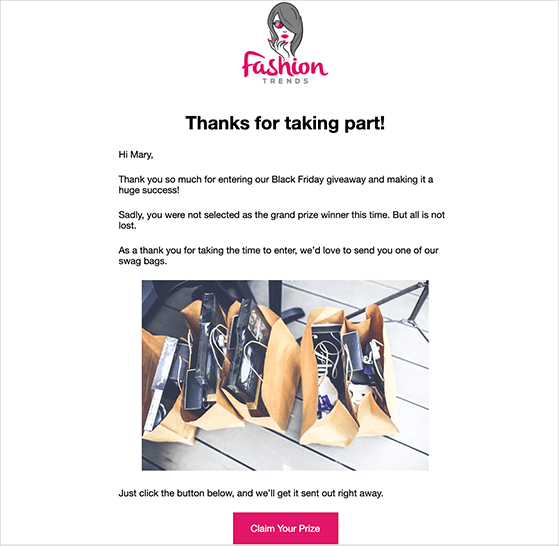 Another excellent way to re-engage the losers of your contest is to offer them something in return. Providing a consolation prize shows that you still care about your audience's experience, even if they didn't win.
In fact, with a small consolation prize, you can ensure that every participant is a winner, even if it's something small like some stickers or postcards. With this approach, you get the chance to forge a real connection with current and potential customers.
Here's an example of how you can word that email:
Giveaway Consolation Prize Email
Hi [First Name],
Thank you so much for entering our Black Friday giveaway and making it a huge success!
Sadly, you were not selected as the grand prize winner this time. But all is not lost.
As a thank you for taking the time to enter, we'd love to send you one of our swag bags. Just reply to this email with your details, and we'll get it sent out right away.
Thanks again,
Stacey
3. Email a Discount or Promo Code
For some businesses, sending a consolation prize to every single non-winning giveaway contestant just isn't possible. If you run a viral giveaway with thousands of entrants, it could be way too expensive.
Yet distributing a discount or promo code to non-winners when you announce the winner can be just as useful for engaging your losers.
If one of the requirements for entering your giveaway involves providing an email address, you can email non-winners with a discount, turning them into engaged customers.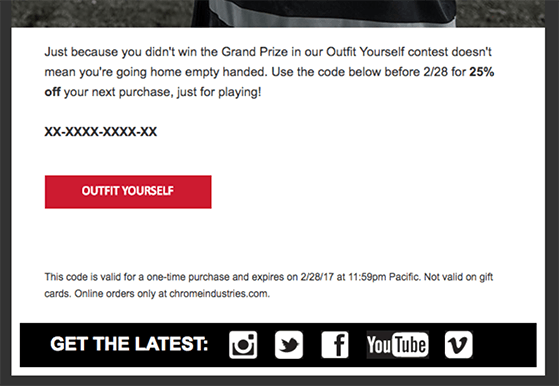 If these people have participated in your contest, you know they're already interested in the products or services you sell. Therefore, a promo code or discount could be just the nudge they need to become happy customers.
4. Suggest Relevant Content
Something else many businesses overlook is to engage all of your new fans with normal content or products while you have their attention.
Since giveaways are pushed so hard during the entry phase, new fans often only see "enter my giveaway" posts on their social media channels.
During and right after your giveaway is the best time to introduce fans to your blog and business.
One way to do this is to send an email with a link to your giveaway winner blog post announcement. That way, new fans can see what other great content you offer, giving them a reason to check back regularly.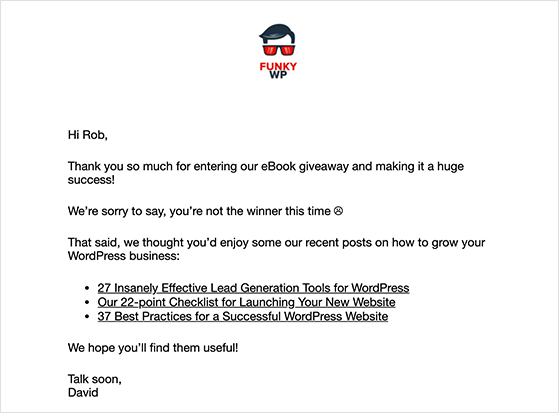 Alternatively, you can email non-winners and suggest content or products you think they'd find useful. This opens the gate for even more conversation between you and your audience.
5. Ask for Their Feedback
What did you think of our giveaway landing page design? Was there anything you found hard when entering? Can we make it easier for you to be eligible to win?
All of the above are valid questions you want answers for in order to achieve better results on your next giveaway. But if you never ask them, you'll never find out.
An easy way to get the feedback you need is to ask both the winners and non-winners of your giveaway their honest thoughts.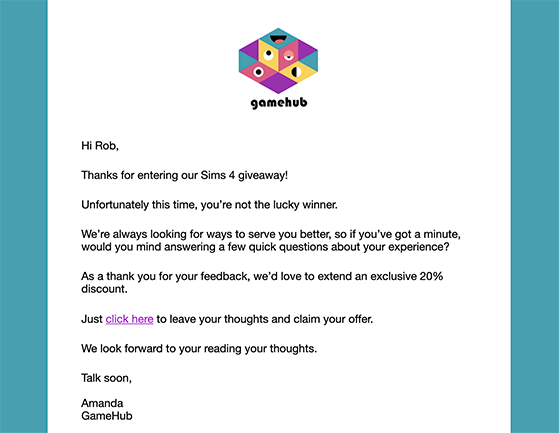 When you mention the winner to your email list of participants, ask them to answer a short questionnaire. You could even offer a discount as an incentive upon completion.
Not only does this show people you care about what they think, but it also provides valuable feedback on how to improve your business.
Here's a handy guide to create a survey form online that you can link to in your email.
That's it!
We hope this article has helped you learn how to email non-winning giveaway contestants. An unsuccessful competition email doesn't have to be the end for your losers. In fact, saying you didn't win can be the start of a beautiful relationship with your audience.
While you're here, you might also enjoy these tactics to get more blog comments and boost your engagement even further.
Don't forget to follow us on YouTube, Twitter, and Facebook for more great tips and tutorials.