Are you looking for an easy way to get more comments on your blog?
By encouraging more people to comment on your blog posts, you can build valuable relationships with your audience and boost qualified visitors and leads. Yet finding ways to generate more conversation in your comments section can be a challenge.
In this article, we will show you our best tactics to get more blog comments.
Why Should You Encourage More Comments?
There are many reasons why you should encourage more comments on your website.
Getting more blog comments can help you to:
Increase social proof: When more people comment on your content, it makes your site look popular.
See if your content helps: Comments are an excellent way to gather feedback about your content and see if it's doing a good job of helping your audience.
Increase engagement: Your readers want to be heard, and comments allow those people to have a voice. This can result in tons of engagement.
Learn about your audience: Getting to know your audience better through your comments helps you learn more about their likes, dislikes, and pain points. This can help you develop your products, services, and products in a way that better meets their needs.
Instead of being a vanity metric, blog comments are an effective way to get closer to your audience, increase social proof, gather valuable feedback, and learn how to serve them better.
How to Get More Blog Comments
When learning how to get more blog comments, it comes down to 2 things:
Making it easy to leave a comment
Giving people a reason to comment
If there is too much friction involved in leaving blog comments, people simply won't do it. For instance, if you use a commenting system that asks users to jump through too many hoops, they'll give up.
So you'll need to remove that friction and offer a good reason for people to engage with your comments section.
With this in mind, let's dive into the best ways to get more blog comments.
1. Run a Giveaway
Running a giveaway contest is one of the easiest ways to get people commenting on your blog. Not only can a giveaway improve your audience's engagement, but it can also help to…
Increase brand awareness
Boost your social media followers
Promote products or services
Collect user-generated content (UGC)
All you have to do is make it a requirement for users to leave a blog comment to enter your giveaway.
In this example, from the WPBeginner Engage Facebook Group, they asked fans to comment on one of several blog posts and leave a link to their comment to win. This resulted in hundreds of blog comments and tons of interaction with their fans.
Related: How WPForms Got 11K+ Facebook Group Members with RafflePress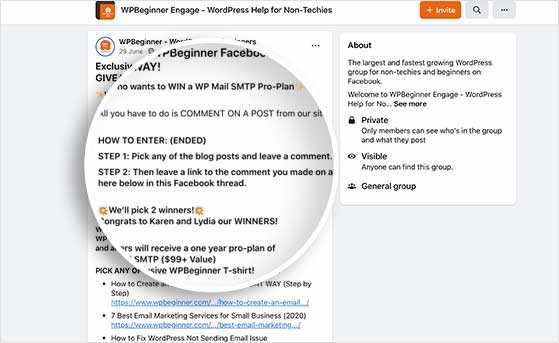 You can run any contest from your WordPress website with a giveaway tool like RafflePress.
RafflePress is the best viral giveaway plugin for WordPress. It makes it super easy to create viral giveaways and contests in just a few minutes, without hiring a developer.
You can get started quickly by choosing one of the pre-made giveaway templates designed to achieve specific giveaway goals. Then you can connect with social media platforms to increase your social followers and grow your website traffic through social sharing actions.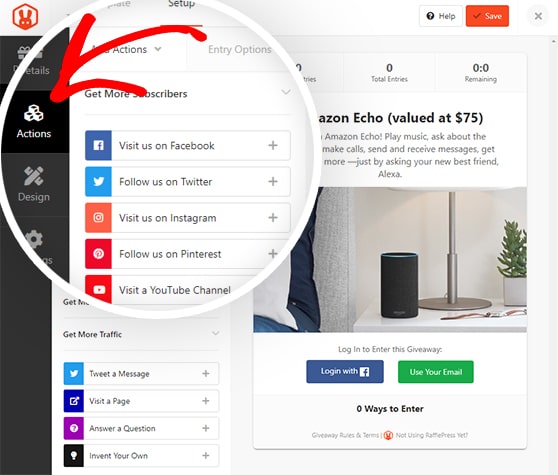 RafflePress comes with a drag and drop giveaway builder, making it easy to build contests quickly, with no coding required. It also integrates with popular email marketing services so you can grow your email list.
It's easy to run a giveaway to get more blog comments with RafflePress. With the Leave a Commnet entry action, you can ask participants to leave a comment in return for entry into your contest.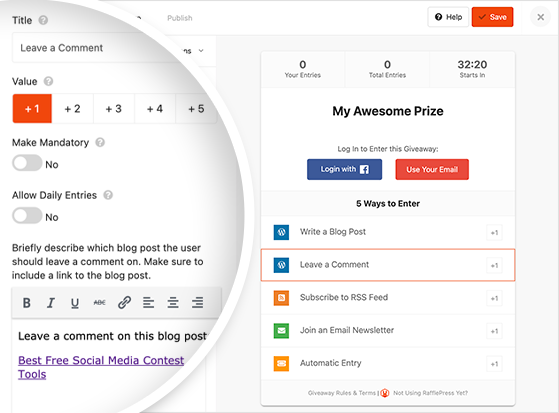 Just click the action to add it to the giveaway widget and tell users what you want them to do. You can also ask them to post the link to their comment to verify their entry.
When picking a winner, you can use the random winner picker and email the winner right from within your WordPress dashboard.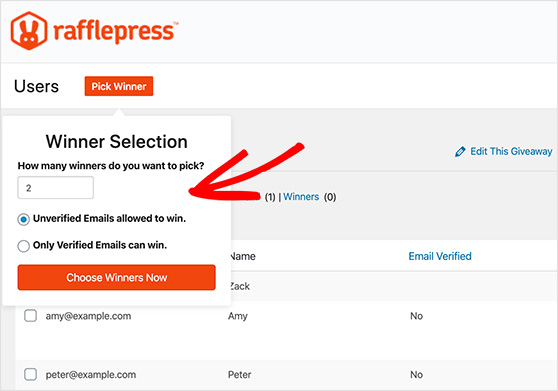 2. Check Your Spam Prevention Settings
We mentioned earlier the need to remove friction from your blog comments. One thing that can cause a lot of friction is any spam prevention tools you may be using.
This can include things like any type of Captcha where users have to solve a puzzle or enter a code before being allowed to comment.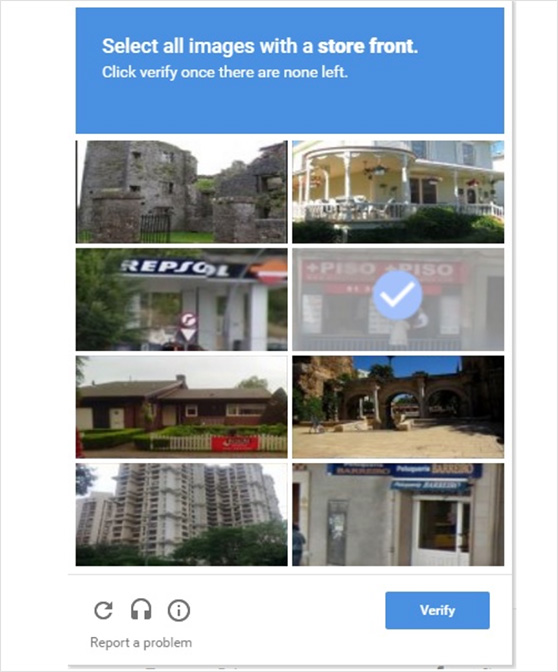 While you might be stopping some spam comments from getting through, many spammers can easily get past your prevention methods. And in the long-run, you could be missing out on comments because it's frustrating for users to leave them.
One way to combat this is to re-evaluate your spam settings and use a more hidden tool, such as the Akismet anti-spam plugin. Or you could opt for a more advanced form of Captcha such as Google Recaptcha that requires only a simple tick box to prove the user isn't a spam bot.
You can check out this article for more ways to reduce comment spam in WordPress.
Did You Know: RafflePress has an invisible Recaptcha option for giveaways. This means your spam protection works invisibly in the background and only shows to a user when there is suspicious activity.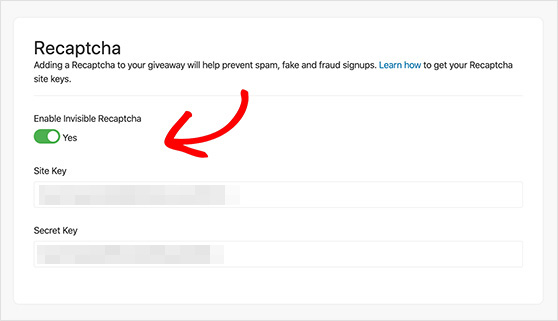 3. Write List Articles
Some of the most popular articles on the internet are list-based posts that share 10 ways to do something awesome or 27 best WordPress plugins to use for your website.
Numbered lists like these are easy for people to read and generate tons of organic search traffic. Plus, when people click through to the post, they know they'll get the information they need.
The best way to get more comments on these types of articles is to ask readers to add to the list. Not only does this give your readers a thoughtful way to contribute to the conversation, but it also provides easy ways to improve your article.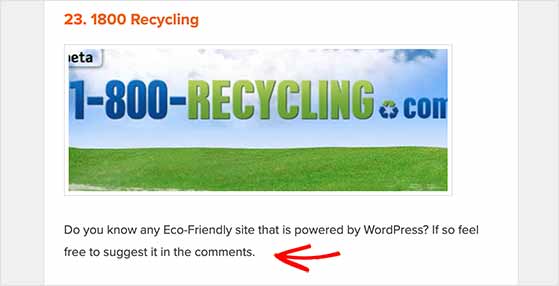 In this example from WPBeginner, they asked readers to add their suggestions for the top eco-friendly sites using WordPress. With the added suggestions, the list grew from 10 to 23 sites.
4. Ask Open-Ended Questions
Another way to generate more comments on your blog is to end every post with a question to your readers. Even something as simple as "What do you think about XYZ" is enough to give users the confidence to express their opinions.
Even though blog commenting is much more anonymous than talking in-person, many people are shy online. So asking an easy question like the one above can make people feel more comfortable adding their comments.
Try making your question bold so that it stands out and is easy to spot. Otherwise, readers might scroll past completely.
Take a look at the example above from ProBlogger. Darren Rowse ends the article with a simple, open-ended question, resulting in lots of blog comments.

5. Add Video to Your Content
Including video in your blog posts is an effective way to improve the number of comments you receive. That's because people generally remember up to 70% more of what they see and hear in comparison to what they read. So if you embed relevant video content in your blogs, there's a big chance you'll generate more interest.
Top social media influencer Marie Forleo includes videos in her posts, generating hundreds of comments from engaged readers.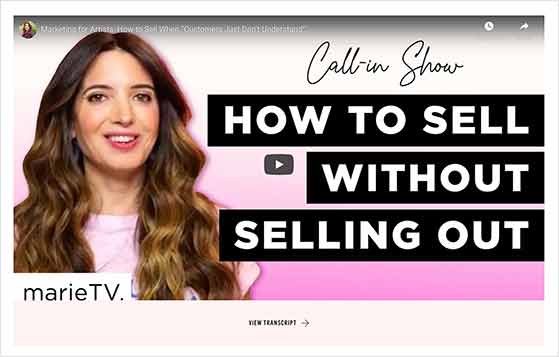 Using video is also a great way to improve your articles' chances of appearing on the first page of search engine results. Google is increasingly featuring video content in their featured snippets, so appearing there can drive tons of targeted traffic to your website.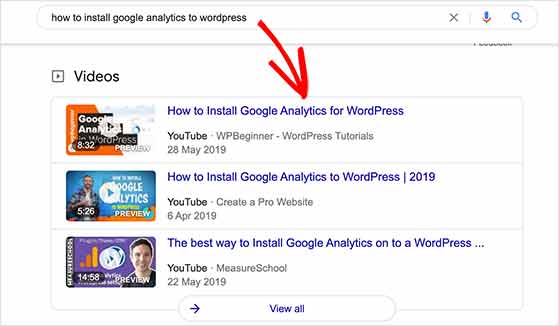 If you want to learn more about social media statics, including stats for YouTube videos, check this out.
6. Comment on Other Blog Posts
Another way to increase your blog's visibility and, in turn, get more comments is to make sure your brand is active on multiple platforms across the internet. By commenting on other blogs, and social media channels, you increase the chances of people checking your blog out and reciprocating.
The key here is to be visible on the channels that are relevant to your audience. There's little point in commenting on a beauty blog if you write about the latest Apple devices. People simply won't be interested.
However, if you take the time to leave thoughtful comments and opinions on a blog with an audience similar to yours, the blog author will return the favor. Plus, the community of fans who respect that author will likely follow suit.
If you've got the time to do so, you could even guest post on those blogs. Blog authors typically allow you to include a link back to your website in your author bio, which is another great way to get more eyes on your content, and comments.
7. Respond to Comments
Following on from the previous tip, you should also make sure you reply to comments on your blog and any responses to the comments you leave elsewhere.
If you ignore your comments, the conversation will die off, and you'll miss out on valuable feedback from your audience. Yet, if your readers see that you care enough to reply to comments, it encourages them to join the conversation.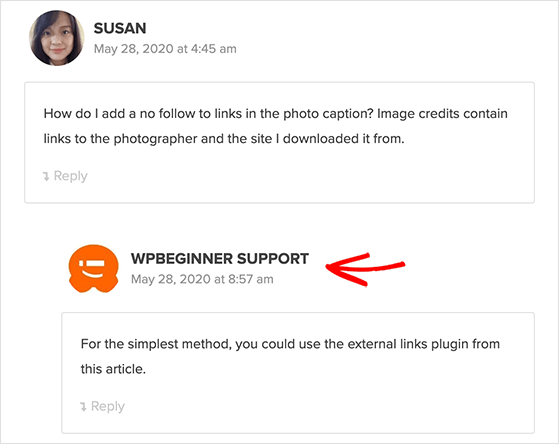 As a website owner, you don't want your blog posts going out into a vacuum and left unacknowledged. Your readers don't want their comments ignored either.
Answer any questions you receive thoughtfully to show that you care about your audience's feedback. And if there are no questions to answer, thank readers for commenting. This makes it more likely they'll comment on future posts.
8. Let Users Subscribe to Comments
When anyone leaves a comment on your website, they'd typically have to bookmark the page to return and see if anyone else comments on the article. Yet, if they don't bookmark your post or forget your website's name, chances are they'll never come back.
To combat this, you can allow readers to subscribe to all the comments on your WordPress blog posts. That way, they'll get an email whenever anyone comments.
Not only will this help boost discussions on your website, but it will also increase your page views.
Follow this step-by-step tutorial to learn how to allow users to subscribe to comments in WordPress.
9 Notify Users About Replies to Their Comments
Similarly, whenever someone leaves a comment on your website, there isn't a way for them to see if anyone replies to their initial comment. Again, they'd normally have to bookmark the page and visit later, which most users simply won't do.
Using this guide, it's easy to notify users of replies to their own comments in WordPress. That way, they'll only get an email if someone responds to their comment.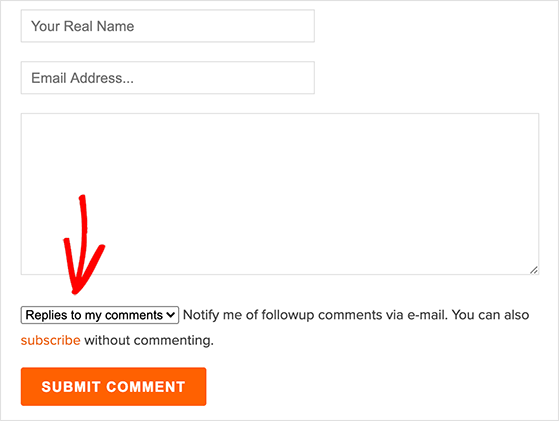 If you make it a habit to reply to the majority of comments you receive, this tactic could result in a highly engaging blog community.
10. Create Posts Around Top Comments
There are some excellent conversations to be had in your comments section that are worthy of more attention. So the next time you see a particularly insightful comment, why not use it as inspiration for your next blog post?
You can do that by starting your post with a screenshot of the inspiring comment and a link to that user's website. Then you can go on to write your opinion on the comment after.
Once the article is live, send an email or social media message to the original commenter and let them know that they were the source of your inspiration. They might even share the article with their audience, drawing even more attention and traffic to your website.
This tactic allows you to reward your best commenters and give them the recognition they deserve. It also encourages them (and other readers) to come back and comment more in the future.
11. Ask Your Email Subscribers to Comment
Another easy way to get more blog comments is to send an email to your newsletter subscribers and ask them to join the conversation. Many content marketers have discovered that email subscribers are more likely to share your content with their network and are the most likely to comment when you ask them.
You can try signing off your regular newsletter with a call-to-action, asking users their thoughts on your articles. Or you could use the suggestion from earlier in this article and ask readers what else they'd add to the post.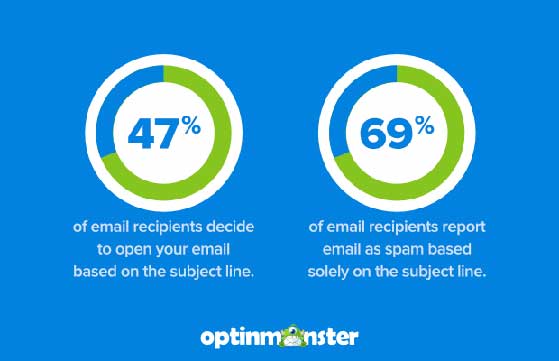 For your emails to be successful, you'll need to perfect your email subject lines to increase your email open rates. Then you can be sure you'll get more visitors to your blog and boost that all-important comment count.
12. Turn On Comments for Old Posts
Many bloggers turn off commenting on older blog posts to reduce unnecessary comment spam. Yet, some people likely discover your posts, visit your blog, and decide they want to comment.
You can easily turn on comments for old blog posts from your WordPress dashboard.
Just navigate to Settings » Discussion from your WordPress admin panel and find the "Other comments settings" heading. Then go ahead and uncheck the box next to the heading, "Automatically close comments on posts older than 14 days".

Now readers will be able to leave a comment on your older posts and keep the discussion going.
13. Make an Announcement
As your website continues to grow, there are likely plenty of changes you'll need to make to improve your chances of success. However, people don't always like change, so it's a good idea to get feedback from your audience about any new updates, features, or newsworthy topics.
Write an announcement post explaining the changes, and ask your audience to tell you what they think in the comments. You can use the feedback to address any issues in future updates as a way to serve your audience better. Plus, it will show them that you value their opinion.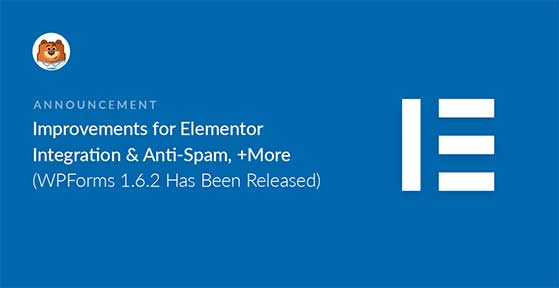 WPForms regularly announces new updates to their contact form plugin on their blog, generating lots of comments from users. As a result, they have a thriving online community.
14. Display Recent Comments
When anyone lands on your website's homepage, it's difficult to see the discussions happening on your blog. For instance, there could be a heated debate going on that a new visitor might want to join in with.
In WordPress, it's easy to show recent comments in any widget-ready area of your website. Just navigate to Appearance » Widgets from your WordPress dashboard, and drag the Recent Comments widget over to your chosen sidebar area.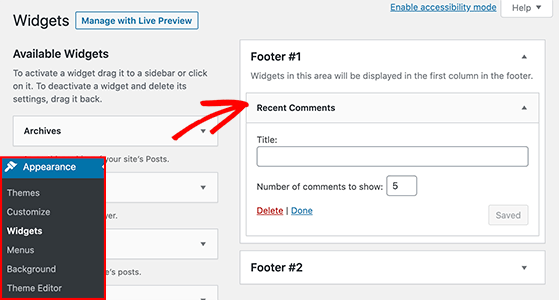 Then all of your latest comments will display anywhere that sidebar is visible on your website, and users can jump into the conversation.
15. Ask For Feedback on Social Media
Social Media is an excellent way to drive traffic to your website, but did you know that you can use it to get more blog comments with a few well-placed words?
Instead of sharing posts with a link to your latest article on social networks, ask your followers for feedback. You can write something simple, like "Would love to hear your thoughts, leave a comment, please."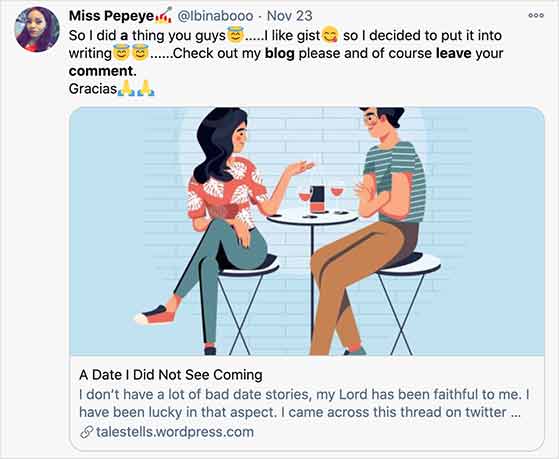 This kind of update again shows that you value your audience's opinion instead of just promoting your own point of view.
Did You Know: Integrating social media feeds on your website is a great way to boost engagement, subscribers, and brand awareness.
That's it!
We hope this article helped you to learn the best tactics to get more blog comments. Now all that's left is to put these tips into practice and watch the discussions grow.
You might also find this guide on how to create a live sales notification in WordPress useful.
Don't forget to follow us on YouTube, Twitter, and Facebook for more great tips and tutorials.